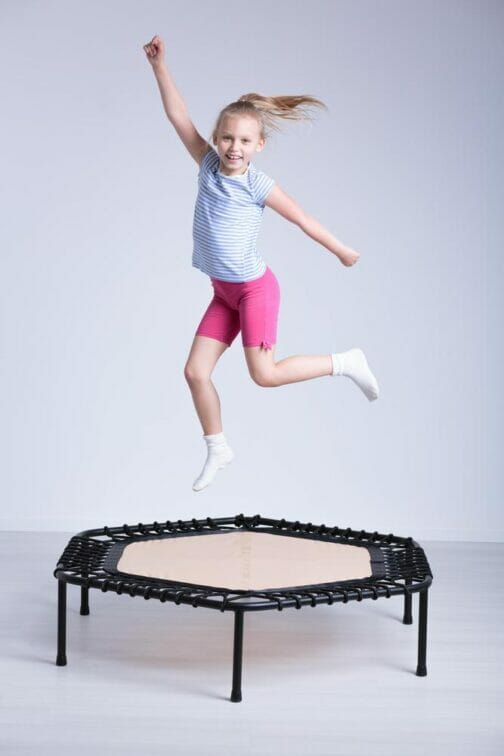 *This post may contain affiliate links (#ad) for which I earn commissions.*
Best Indoor Trampoline for Home Use in 2023
Find the best indoor trampoline for home use, that is silent, budget friendly and the ones good for adults, kids, and toddlers, as well as fitness. Enjoy the bounce.
Indoor Trampolines for Adults
Indoor trampolines for adults provides a fun way to enjoy bouncing around while getting a nice workout. Many indoor trampolines are designed to take up little space yet good enough to provide a good bouncing workout.
Stamina 38" Folding Trampoline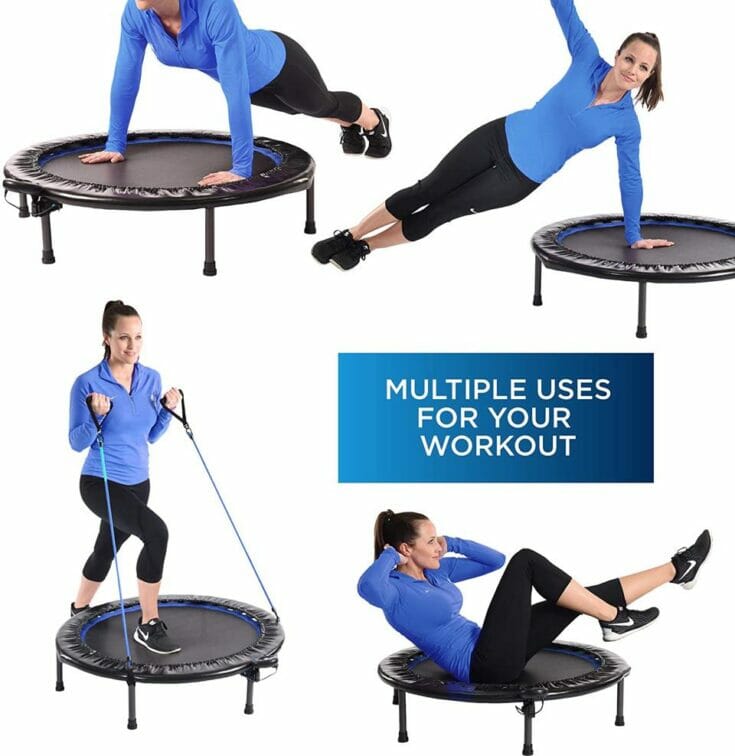 A folding trampoline can be a great indoor trampoline for home. This Stamina model (Stamina INTONE PLUS 38″ Rebunder #ad amazon) is durable enough for adults, easy to store, and doesn't break the bank.
Who Is This Product For?
This trampoline is what you want if you have limited interior space. The model can be folded when not in use which means you can save plenty of space. The legs are also detachable.
As far as age groups are concerned, it's safe to say that an interior trampoline with no safety net is not fit for kids (though it's very low to the ground). This model is aimed at adults and also comes with the weight capacity to support them.
What's Included?
Durable heavy-duty polypropolene rebounding surface.
Two resistance tubes with foam padded handles for upper body workouts.
Multi-functional electronic fitness monitor tracks: jumps/minute, workout time, total jumps, and calories.
Optic blue border to keep your workout safe.
38″ wide sturdy steel frame.
Use indoors or outdoors, comes with a safety pad.
Note: The resistance tubes conatain natural latex which may cause allergic reactions.
A folding trampoline can be a great indoor trampoline for home. This Stamina model is durable enough for adults, easy to store, and doesn't break the bank.
Who Is This Product For?
For folks who want a fun way to build cardiovascular fitness.
Tone your legs, abs, buttocks, and back.
Help increase your energy level.
Give your metabolism a boost.
Just want to look and feel fit.
Use the resistance tubes to bulid strength in your arms, shoulders, back and chest.
Overview of Features
The frame construction is full steel which makes the trampoline extra durable especially for indoor use. If you keep it in a tight space you shouldn't have any issues of accidentally banging it against the wall or other workout devices.
The folding design is most impressive. It helps you save space if you no longer need to use it and it keeps it safely away from kids. It also makes it easier to assemble than traditional trampolines.
In addition, the blue outline adds safety by keeping you bouncing inside the mat's "sweet spot".
The 36" diameter mat offers plenty of use for adults. The 250 lbs. weight limit also ensures that a wide range of customers can use it to its maximum potential.
The tension resistance bands are about 2 inches wide and that's what gives the trampoline bounce, stability, and durability.
Conclusion
The Stamina 38" Folding Trampoline is small enough to be called an indoor trampoline yet durable enough to be used by adults. It can serve as an alternative fitness device in your home and it's quick to put away if you need the extra room. Given the absence of a safety net it's not suitable for kids.
Indoor Fitness Trampoline
This is a great way to make indoor cardio exercises at home more fun. Sometimes these indoor fitness trampolines are also called indoor rebounders. Either way, the give a great urban cardio workout at home.
SereneLife Portable and Foldable Mini Trampoline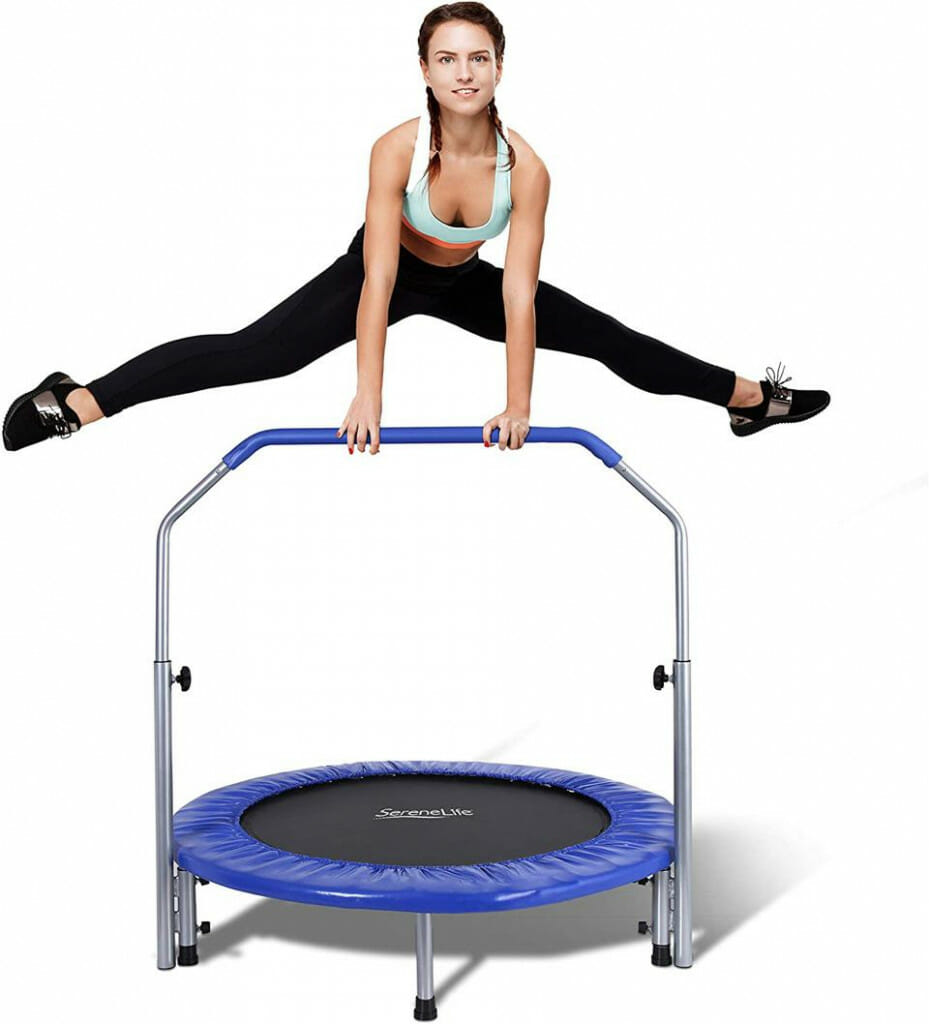 The SereneLife Foldable Fitness Mini Trampoline #ad amazon aims to give adults an alternative solution to a regular and boring cardio trainer. It's simple to use and has plenty of utility.
Who Is This Product For?
This indoor trampoline is for anyone looking to diversify their cardio workouts. It's rather affordable for a workout device and it's very durable.
It also has plenty of features and accessories to help you get your heart rate up in a fun way. It might also interest you if you don't have much room in your house, as this is a mini indoor trampoline for home after all.
What's Included?
This Trampoline comes with a sturdy mat. It also has a detachable handle for a variety of exercises.
It uses bungee cords instead of springs which come in handy if you want to eliminate the noise. The instruction manual is also included and it offers detailed explanations on how to put the fitness indoor trampoline together.
Overview of Features
Right off the bat it's easy to see why this is a fitness trampoline. The handle can be used for extra stability during hard and intense exercises. The bungee cords that replace the standard springs keep the noise levels to a minimum.
The hand rail is adjustable between 33 and 47 inches. The diameter of the mat is 33 inches and it supports up to 286 lbs. The mat is also non-slip so you can use it with your shoes on or off without worry.
Although this is an indoor trampoline it can also be used outside. The steel frame provides durability and stability. Just make sure you're not using it in unfavorable weather conditions.
Tutorial
Although the instruction manual covers all the bases, it helps if you make this a two-person job. The trampoline may be small but assembling it requires physical labor.
SereneLife Indoor Fitness Trampoline – Assembly Instructions Sample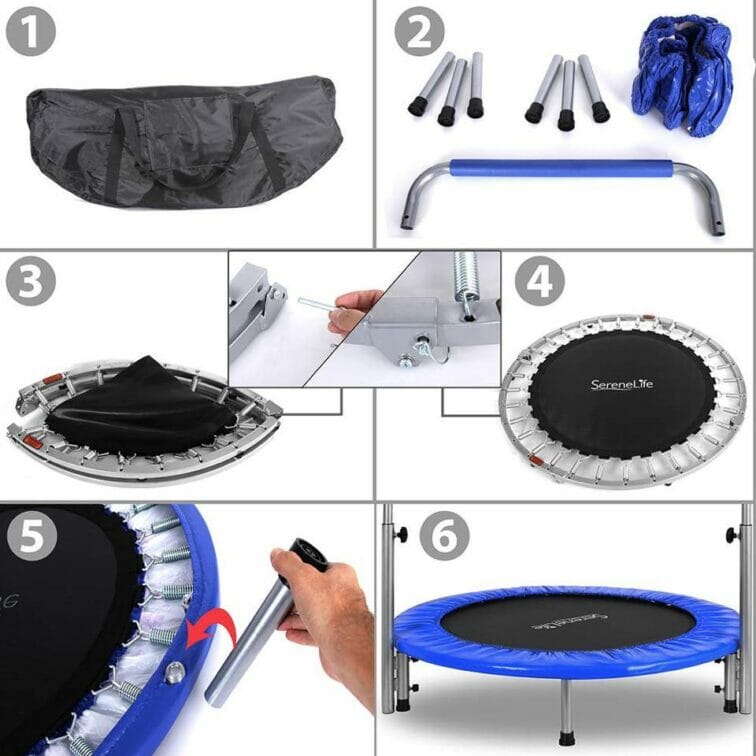 Final Thoughts
The SereneLife Foldable Indoor Trampoline serves as a painless cardio workout device for your joints. It's small, affordable, and easy to set up with a friend. It also makes almost no noise and it comes with an adjustable and detachable stability handle.
Toddler Indoor Trampoline
Toddler indoor trampolines are great for kids 12 months to  about 3 to 4 years of age, who are not over 44-pounds. They come with safety features to make sure each happy bounce is a safe bounce.
Galt Nursery Toddler Trampoline for Ages 1+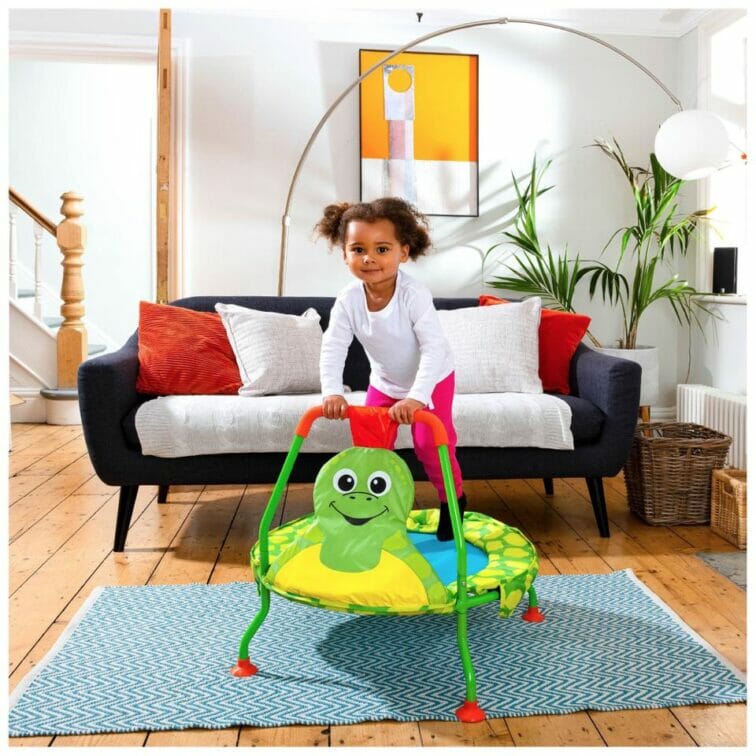 The Galt Nursery Toddler Trampoline #ad amazon is sturdy and affordable, and can be used as a fitness device for toddlers too. Adult supervision is always advisable.
Who Is This Product For?
This trampoline is an excellent starter for improving kids coordination, balance, and strength. The handlebar can be used for fun games and can give them a good workout too. It will be instant fun for your toddler.
The trampoline is designed for kids who are at least 1 year old up to about 3 to 4 years old. The weight limit is 44 pounds.
What's Included?
This model comes with a safety padding around the jumping mat and has a handlebar that offers extra stability. Please note: this model doesn't have any safety enclosure.
Overview of Features
The handle bar is a decent safety feature for a child that's not overly active. At the same time it does limit the freedom of movement. (NOTE: the handle is not adjustable)
The frame is a combination of metal and plastic, which means you probably shouldn't take it outside. It's not built for bad weather.
The weight limit is just 44 lbs. This is ideal for 1-year olds up to around 3/4-year old toddlers who will most likely spent a lot of time bouncing.
Given the choice of materials and the size, the trampoline is easy to move and to install. The lightweight design will come in handy if you have to constantly relocate it to keep your kid busy. The good thing about it is that it shouldn't take up too much room.
Tutorial
Enter your text The installation is straightforward. There are only 4 support legs to work with and the mat is easy enough to stretch out. The instruction manual should paint a pretty good picture of how to put the whole thing together. The owner's manual gives clear instructions on how it should be used safely so your child doesn't risk an injury. Two person assembly is required.
Conclusion
An indoor trampoline can be a great investment for both adults and kids. While grownups can't freestyle a couple of feet in the air on one of these, it doesn't mean they can't get an awesome workout.
Indoor trampolines for children feature limited bounce and safety net enclosures (or some other safety device such as handlebars). What's most important perhaps is that these trampolines are very budget friendly compared to their outdoor counterparts.