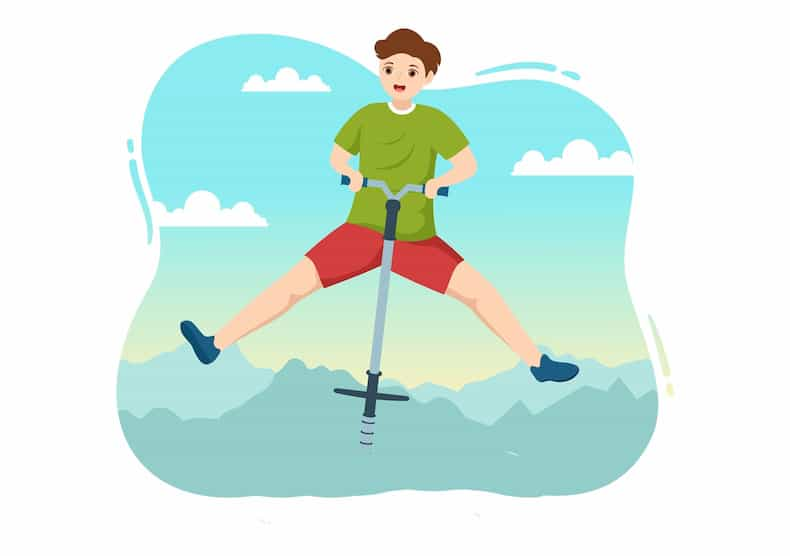 *This post may contain affiliate links (#ad) for which I earn commissions.*
Vurtego V4 Pro Air-Powered Pogo Stick with Adjustable Air Spring
Are you looking for the ultimate pogo stick? Look no further than the Vurtego V4 Pro! #amazon ad This revolutionary air-powered pogo stick is designed to give you the most epic experience of your life. With its adjustable air spring, if you are 75 lbs or 300lbs you're good to go by simply adjusting the air pressure:

Vertigo V4 Air-Powered Pogo Stick With Adjustable Air Spring

More air, more spring, the higher you go. So far the record is a bit over 11 feet.
Lower the air, the spring becomes more comfortable and softer, you'll be bouncing just a few inches off the ground. As a rule of thumb, to get this comfy bounce, pump it up to about 1/4 of your bodyweight.
For those looking for maximum hangtime, the V4 Pro is the perfect choice. It has a longer slide shaft and a self-lubricating bushing for an even more powerful bounce.
This V4 Pro has some impressive capabilities. It is capable of jumping up to 10 feet high and holds 11 Guinness Book world records. These records include high jump at 11'1′, most consecutive cars jumped in a row at 4, and most consecutive backflips at 17!
The V4 Pro comes with a 1-year warranty. So if anything breaks within the first year, you won't have to worry about a thing. This is just one more way that the V4 Pro is designed to give you a stress-free and enjoyable experience.
Here are a few of the nifty things you can do when you buy this amazing product:
• It's like having your own portable trampoline.
• Use it for fun, bounce around in the driveway or in the park with friends.
• Use it for fitness, get a workout while bouncing down the neighborhood jogging path. You won't need to go too far for a great cardio-workout.
• Get into extreme sport competitions, maybe you'll be the next Guinness Book record holder.
• It's waterproof! Oh yeah, bounce off into your favorite pool. Danger Note: When jumping into a pool please make sure to not jump on any wet areas-could slip and hurt yourself. Also, there are 8 cylinder bolts that will rust because they're black anodized steel-Good news, they will continue to perform fine and dandy.
• You can leave it pumped up in between uses!
It may be a bit pricey, it has to be because it needs to be strong enough to not leak nor break when dropped. 
Nice to Know Details:
You need to buy your own safety gear, CSPC Certified helmet #amazon ad, gloves for sweaty hands, and close-toed shoes.
You'll need a standard Schrader valve bicycle pump preferably with a built in air pressure gauge.

Don't worry about bursting the cylinder because the burst pressure is about 2,000 psi.

The different sizes are based on your height: (Note: some customers get a larger size so their child can grow into it-please use your best judgement.)

Small: 4'8" – 5'5" (147cm – 165cm) / 30" from pegs to handle bars.
Medium: 5'5" – 5'11" (168cm – 181cm) / 33" from pegs to handle bars.
Large 6'+ (182cm-198cm) / 36" from pegs to handle bars.
• The difference between the V4 and the V4 Pro:
V4 Pro is for jumping high and doing tricks.
In addition, the V4 Pro has a reduced friction bushing and 2" additional stroke on the slide shaft. This helps prevent bottoming out when hitting the ground on high jumps.
And there you have it! If you ever have used a pogo stick before then you'll be literally 'jumping with joy' with this high-powered adjustable air spring pogo. Have a nice leap in fun! ٩(^ᴗ^)۶