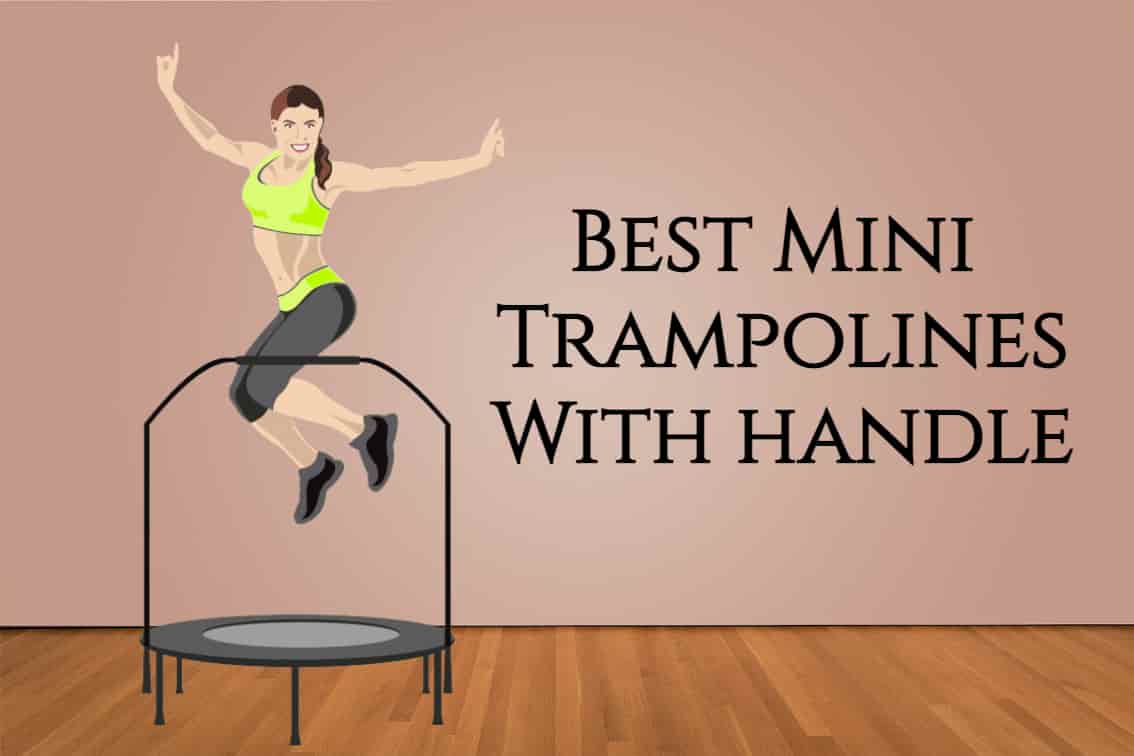 *This post may contain affiliate links (#ad) for which I earn commissions.*
Best Mini Trampolines With Handle
These are the best mini trampolines with handle that provide a safe, long-lasting, healthy way to bounce for young and old and fold for easy storage.
These are the best mini trampolines with handle that provide a safe, long-lasting, healthy way to bounce for young and old and fold for easy storage.
There's nothing like the feeling of floating in the air when bouncing on a trampoline. These space-saving rebounders, which is another name for "mini trampolines," are a great way to enjoy a short float in the air and to get a good, safe workout as well.
These top five all have the following in common:
• They can be folded up for easy storage or transport.
• The handle is adjustable so children as well as adults can bounce safely.
• They are quiet.
• They are well made of durable steel.
• They have covers over the rims and springs to prevent trips or fall throughs.
• They have springs. This group of products do not use super-elastic bungee rope in in lieu of springs.
I chose these based on a combination of having a high rating of over 4 along with the number of reviews and, were somewhere in the "Top Sellers" and "Most Wished For" list.
In addition, I chose rebounders with a handle that doubles as a safety for children and senior citizens to hang on while bouncing and for adults who want to get more exercise variety along with bouncing.
I also felt that they had to be easily assembled, as well as easily folded for storage.
So here are the five products that met my criteria and should provide a safe, healthy, way to bounce and exercise for children and adults.
What Does the Trampoline Size Mean?
The size of the trampoline is the full diameter of the trampoline that includes the woven tramp canvass, the springs, and the frame. That means the actual bouncing tramp canvass area will be smaller. This is why they are called 'mini-trampolines' or 'rebounders'.

Foldable 40 inch Indoor Mini Trampoline With Adjustable Handle #amazon ad

This is the "best" of the "best".
It is by far the most popular trampoline. It has been tested for 3,000 continuous jump experiments making this the most dependable of them all.
It has a maximum load of 330 pounds that is supported by heavy-duty steel tubes with anti-slip rubber bottoms.
The handlebar has four height adjustments, from 32" to 42" that can be easily set with the easy-release knob.
The closed steel springs provide more safety and durability and are covered over with the folding Oxford Pad.
This nifty unit can be folded twice, which means it can be less than 1/4 making it easy to store under the bed, in a closet, back seat of a car, or in a corner.
In addition to the above, I also recommend this product because it has a lot of excellent feedback on customer service. Not only parts are replaced but advice on how to best use the trampoline so the problem won't happen again.
And finally, it's one of the easiest to assemble, and once assembled, it's one of the quietest when using.

Foldable 48 inch Trampoline With Adjustable Handle Bar #amazon ad

This 48 inch rebounder can handle a maximum load of 440 lbs. The foam covered handlebar has 4 adjustment levels (29.5", 32.6", 35.8", 39").
The jumping mat is waterproof and anti-slid. It has eight legs providing safe sturdy support as well as a quiet bounce when used.
Will come out of the box with mat, springs, and covering all put together. All you have to do is attach the legs and handle bar—no tools are needed to attach the legs and handlebar.
The reason why I chose this is there are over 1,000 reviews with an average rating of more than 4 stars. In addition, some customers were very satisfied with customer service. If there was any problem with the trampoline, the customer service took care of it professionally and quickly.

48 inch Foldable Fitness Mini Trampoline With Stability Handlebar #amazon ad

This is a great exercise rebounder that supports loads up to 440 lbs. There are 40 heavy-duty stainless steel springs attaching the premium quality jumping mat to a steel frame making this safe and durable for both kids and adults.
The adjustable handrail has five levels from 38 to 46 inches that can accommodate tall users.
Like the others, this tramp has anti-slip mat and is quiet.
It comes with a pair of resistant bands for more exercise variety.
It can easily be folded up to a quarter size without taking off the safety pad. Only the legs and handle need to be removed. Once folded it's 30 X 17 X 3.5 inches.
In addition to the above this was chosen because it was listed in both the top sellers as well as the most wished for. There are 300-plus reviews with a rating over 4-stars.
It's easy to assemble, no tools needed, and can be assembled by one person in about 15 minutes.
There were a few who thought that the instruction manual didn't explain how to put on the covering that goes over the springs. They easily figured it had to go on before attaching the legs and the handrail but noted it would have been nice to include that point in the manual.

40 inch Foldable Exercise Mini Trampoline for Kids and Adults #amazon ad

Of all the top five this is the most affordable. The rebounder is made with high quality steel and polypropylene mat for exercising or just bouncing.
It has 6 legs covered with anti-slid rubber and can support up to 330 lbs.
Like the others it can be folded twice making it easy to store in small places.
The handlebar has only three level settings that range from 40.6 to 52.4 inches.
This rebounder was chosen because it was also in the top sellers and most wished for. There are over 120 reviews with a combined average rating of over 4-stars.

Recreational Exercise 48 Inch Mini Trampoline With Handle #amazon ad

This foldable rebounder can support a maximum load of 440 lbs. It can be folded twice while the safety pad is still on.
Eight legs covered with an anti-slid rubber cap along with the steel tube make this safe and quiet to use. The polypropylene mat is waterproof and easy to clean.
The foam covered handle has four levels: 29.5", 32.6", 35.8", 39" to accommodate kids and adults.
It's easy to assemble and has a nice jumping surface.
This fitness trampoline has around 60 reviews with an overall average rating over 4-stars. It's nice that it comes with the springs already attached which makes it easy to assemble, can be done with one person.