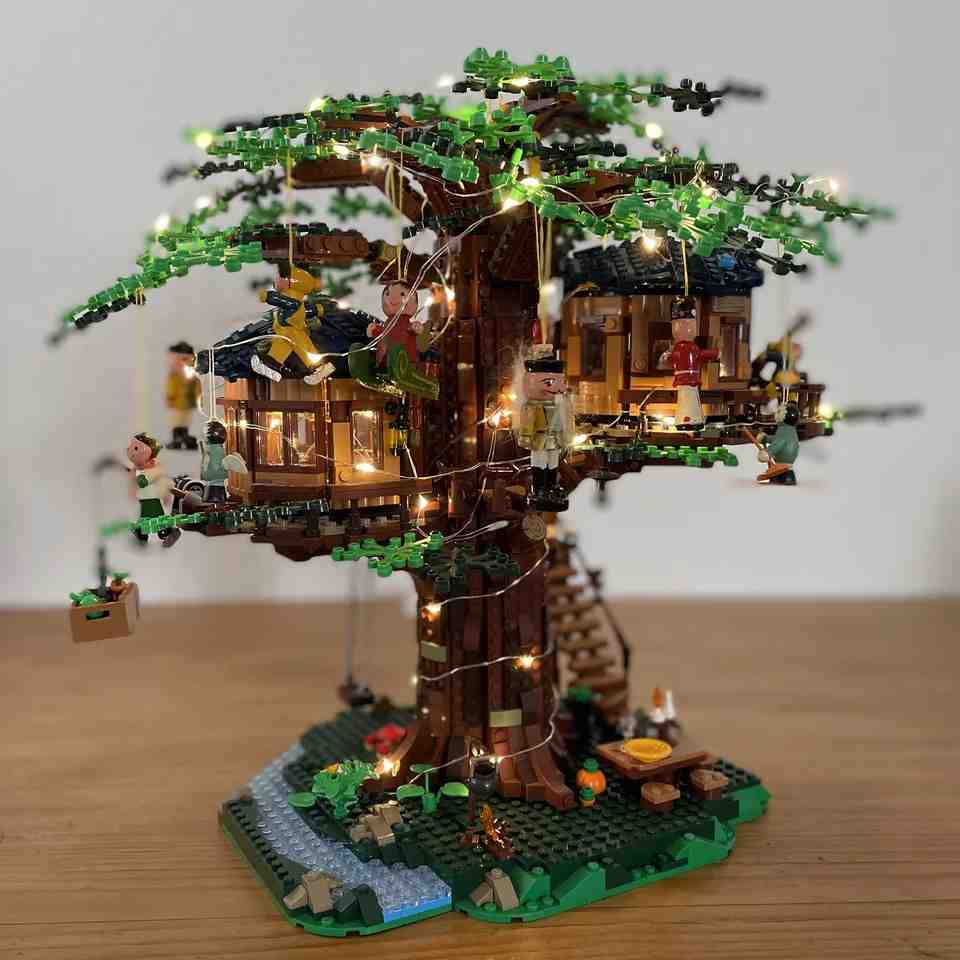 *This post may contain affiliate links (#ad) for which I earn commissions.*
LEGO Ideas Tree House 21318 Build and Display
If you're a LEGO lover then you're gonna love the LEGO Ideas Tree House 21318 #amazon ad set! 

LEGO Ideas Tree House 21318 Build and Display (3036 Pieces)

This amazing set contains 3036 pieces that will challenge advanced LEGO builders and inspire role-play fun. With three cabins, a tree with interchangeable summer and fall leaves, and plenty of play-inspiring features like a crane, swing, and a treasure chest, this set is perfect for anyone who loves the LEGO building experience.
Let's dive into this some more.
This LEGO set also includes four mini-figures: mom, dad, and two children, plus a bird figure. It measures over 14" (37cm) high, 10" (27cm) wide, and 9" (24cm) deep. It's aimed at ages 16 and up, and makes an unusual, yet perfect, gift for any LEGO fan. Plus, it's eco-friendly, featuring over 180 botanical elements made from plant-based polyethylene plastic.
The LEGO Ideas Tree House 21318 set is truly a unique and amazing building experience. It looks beautiful from any angle any side. Be nice to put it on a Lazy Susan for easy 360 viewing. 
One of the fun things about this set is that it's full of little surprises. Little maps, ship in a bottle, scissors and more that are tucked away in neat little corners and places that will bring hours of joy to any LEGO fan.
Here are some of the exciting things you get with this awesome set:
Challenging and inspiring – This set is perfect for advanced LEGO builders and is sure to fill the hours with inspiring imaginative role-play. A great way to teach children the team spirit and inspire their love of building when building this together.
First you start with the landscape base, then the tree can be built into many different shapes. You'll feel like Miyagi Sensei from Karate Kid. "Hai, Daniel-san, must make tree strong!"
Then there's the cute, adorable tree house cabins-a main bedroom, bathroom, and kids' room—their roofs can be removed to view the insides.
There are playful features like a buildable picnic table and seats, a swing, a bonfire, treasure map, and a hidden element to go along with the treasure hunt.
Along with a wooden-like stair case is a wind-up crane to lift things up to the balcony of the bedroom cabin. 
There are the interchangeable green leaves for summer with the yellow and brown leaves of the fall to celebrate the seasonal beauty of our natural world.
No need to worry about how to build this. It comes with a booklet with building instructions and some interesting info about this LEGO Ideas set's fan creator.
A Few Helpful Things to Know:
This set comes with a total of 23 bags. Some are unmarked and some are numbered 1-19.
Shipping box size: (approx) 32" x 24" x 5" / Tree house set dimensions: 14.5" tall, 10.5" wide, 9.5" deep.
To clean off the dust try using compressed air can dusters-the same ones used to dust off a computer keyboard.
There's no lights that come with this set, they have to be ordered separately. This lighting kit #amazon ad is compatible with this LEGO Tree House.
In the event a piece is missing go to "Order details" > select "Get Product Support" and request a replacement.
There you have it. If you're looking for a truly unique and amazing building experience to test your building skills and rekindle fond family memories then this LEGO Ideas Tree House 21318 set is the perfect choice. With its challenging and inspiring building experience, eco-friendly elements, variety of features, and mini-figures included, you'll have hours of fun with this set!