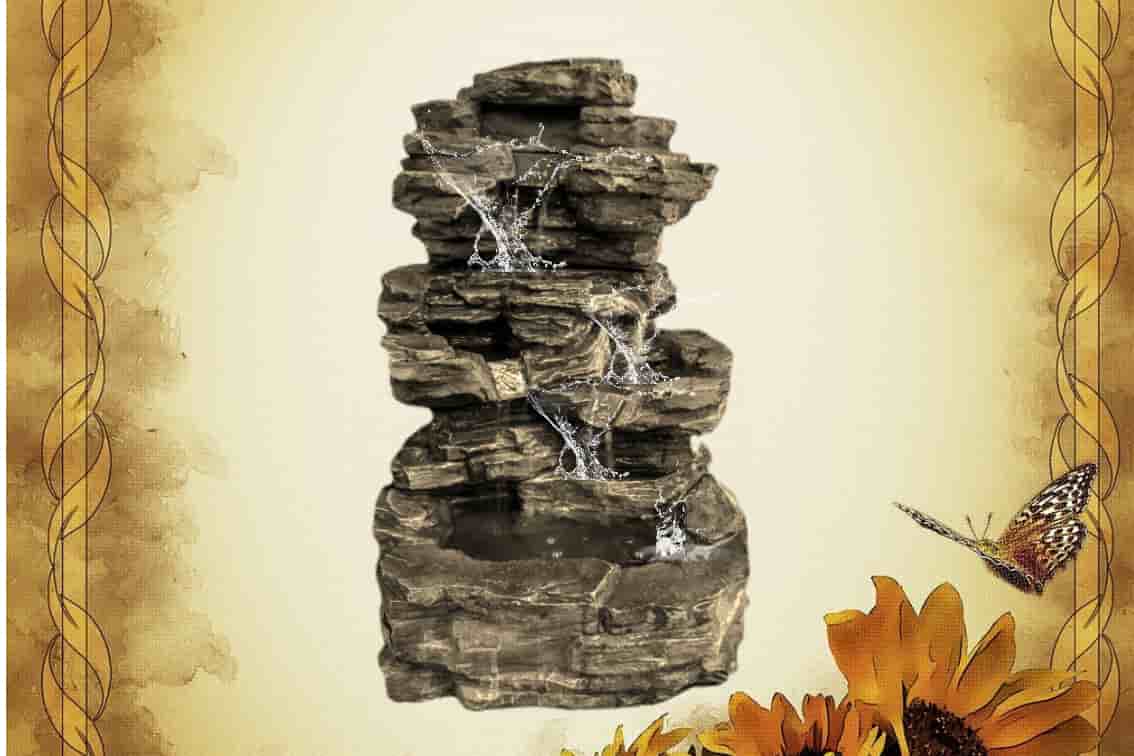 *This post may contain affiliate links (#ad) for which I earn commissions.*
Tabletop Waterfall Fountains with Light: Soothing Comfort
These quaint tabletop waterfall fountains with light will bring the soothing, comforting sounds of a small waterfall to help you relax or unwind.
These quaint tabletop waterfall fountains with light will bring the soothing, comforting sounds of a small waterfall to help you relax or unwind.
These little gems of nature create a relaxing and meditative ambiance if placed in your office, your home, or in the baby room that will be a welcome delight to sooth your soul, or help your baby or maybe even you nod off into slumber-land.
They are easy to set up, just add water, add your natural stones, plug in, kick-back and enjoy the sight and sounds of nature inside your room.
They are small, taking up little space and are light weight making them easy to carry to another place you want to create a bit of peaceful harmony with a little sweet piece of nature.
An indoor rock waterfall 5-levels tabletop fountain with LED lights provides your favorite space with a quaint attractive version of nature. #amazon ad
At 14-inches high, it has a rugged outdoor look made with fiberglass to be long-lasting. It comes with a camouflaged back door for easy access to the pump and light. No plumbing required, just add water and plug it in.
At only 6-pounds, you can move this around to any place you desire to retreat to the site and sounds of nature.
Here's a decorative Asian design leaf tiered tabletop fountain with reflective lighting that brings a miniature relaxing version of nature into your home or office. #amazon ad
It has 3 beautiful tiered leaf plates where the falling water cascades softly and gently over the natural river rocks in each plate.
In addition to the sights and sounds of a tranquil babbling brook, there's a soft-reflective lighting under the leaf plates adding a warm soft glow to this little wellspring that's 8.25 inches high and 8.1 by 7.25 inches wide.
It's perfect for calming you down after a long hard day at work, or commute. It can help you fall asleep, bring more zen to meditation or practicing yoga. The soft glow can provide a nice night-light as well as a soothing sound in a baby's nursery.
This indoor tabletop lighted stone wall waterfall fountain creates a tranquil sound of falling water illuminated with a peaceful glow from LED lights. #amazon ad
Made with poly resin material, it's 10.5-inches high, easy to assemble with no additional upkeep. Add the water, plug in the pump and enjoy your own natural sound of nature.
It will add a contemporary look with a natural charm that has the calming ambiance of illuminated running waters to anyplace in your home or office.
An indoor 3-tiered zen tabletop fountain with tea-light candles creates a soothing sound of water and tranquil lighting of a zen-like piece of nature. #amazon ad
The little spring waterfall stands at 11-inches high with an electric pump that creates a beautiful, soothing sound of water cascading down stone-like pillars into a pool of real river rocks. Three small candles placed on pillars create a serene scene of intimacy and tranquillity.
It's like having your own little piece of nature in your home, office, bedroom, or anyplace where you like to unwind.
The indoor cascading gray stone tabletop fountain with LED lights will give your favorite nook a realistic and relaxing touch of natural beauty. #amazon ad
Easy to set-up and maintain, the water will gently fall into a small pool when the pump is plugged in. It weighs 8.36-pounds and is 13-inches high made of fiberglass that is rust and weather resistant. A soft cool white light adds to the evening's relaxing mood.
It's easy to carry and fits in nicely anyplace you feel a need to keep in touch with nature's relaxing site and sounds.