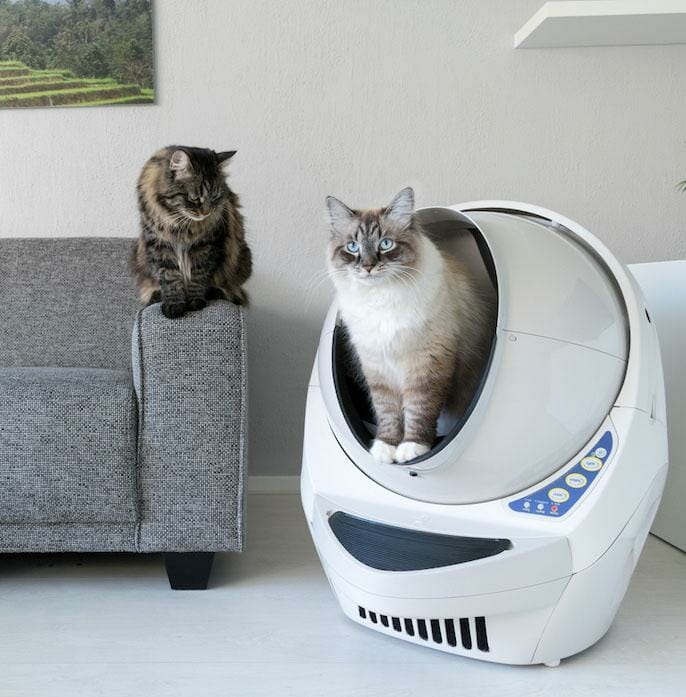 *This post may contain affiliate links (#ad) for which I earn commissions.*
Introducing the Litter-Robot an Automatic Kitty Litter for 2023
Cats make loving companions. Some folks adopt one while others like the idea of having a family of cats keeping them good company. Whether it's one cat or a house full of cats — cleaning up after them can be a "chore".  But not anymore with an automatic kitty litter that cleans the poop, no need to scoop and a whole lot more.
Some folks just flat-out hate cleaning a litter box. This article will help such folks and folks who just want more time to spend with their beloved cat and not have to worry about the litter box.Enter your text here…
Introducing Litter-Robot
An automatic kitty litter box – or robot – works on a basic principle: It detects cat movements and reacts accordingly. For instance, the Litter-Robot senses when the cat steps inside the box. It then notices when the cat leaves and only after that does it promptly dispose the waste.
The waste is deposited into a waste compartment. It helps minimize the spreading of unwanted smells. The waste compartment will have to be emptied by hand eventually, but the frequency will depend on a number of factors described below.
Buying Guide – What to Ask Yourself before You Purchase
How Many Cats?
If the answer is many of them then you need to be looking at giant-sized litter boxes. Cats tend to prefer a large area for their smellier endeavors. However, here's the good news: Litter-Robot can handle more than one cat.
How Many Cats – Infographic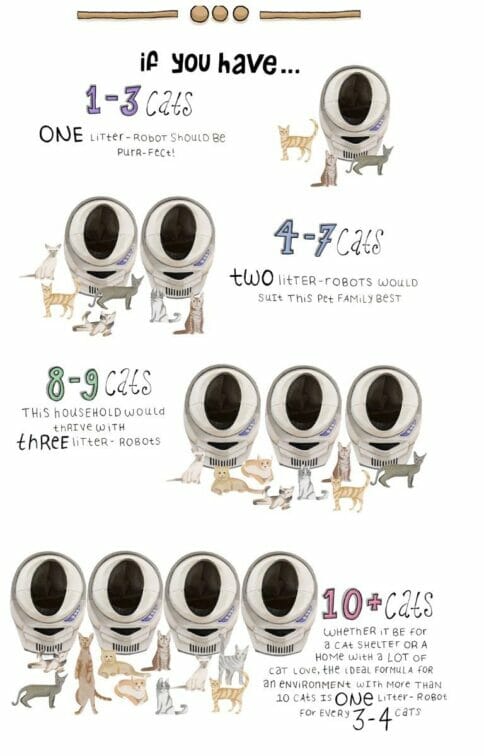 Size and Cover Design
The size of the robot isn't only important when you live with multiple furry friends. Keep in mind that cats tend to eat and sleep a lot with those crazy-fun bouts of running all over the place bouncing off walls and furniture in between the sleeping and eating.
However, the size of your tabby is important. YouTube alone is filled with cats that very large. These BIG cats won't fit in a Litter-Robot.
For folks who have a normal to large cat, it may be hard to know if it will accept the confines of Litter-Robot.

Most cats do feel comfortable being in a confine spaceas long as they can turn around in it comfortably.
So what happens if you buy one and your feline friend doesn't like the robot litter box. You should be able to return it and get a full refund. For more about this see: "Can I Get My Money Back if it Doesn't Work Out?"
Location
Where you put your Litter-Robot is important for a variety of reasons. First of all, automatic litter boxes work on electricity. This often times means you'll have to plug them into an outlet so they can run 24/7.
Try to think like Kitty when you're deciding on where to locate your litter box. Look for outlets in an area your cat might feel comfortable doing their business
It should go without saying, you never want to put the litter robot next to where the cat eats or sleeps will almost never work. It's best to keep eating and litter separate.
Does your cat already use a regular litter box?
A trick to try:
Keep the old litter box with cat pooh next to the automated litter box and kitty will figure out that the Litter-Robot is the place to "go."
Can I Get My Money Back if it Doesn't Work Out?
Warranty:
You're Covered: 18-Month Warranty starting from the date of shipment
No charges: Parts, labor, and shipping costs (within the contiguous 48 United States) is free of charges under the warranty period. Alaska, Hawaii, and Puerto Rico will have to cover additional shipping costs.
Warranty Status: Contact Customer Service to see when your warranty runs out, they offer an "Extended Warranty" for another 18 months.
Returns:
Not Satisfied: Return for a refund under their 90-Day Money Back Guarantee.
Refund Processing: They provide easy to follow instructions on how to pack the robot and get a Return Merchandize Authorization (RMA) number.
AutoPets, that sell Litter-Robot, want to keep your pets happy and safe while making pet care an enjoyable experience as well as an easy one for you.
Maintenance Schedule
As previously mentioned, the waste compartments are emptied by hand. How often you have to do that depends on how many cats you have, how often they "Do it."
The cat's meal frequency should also be a factor. Simple math. The more they eat the more they "go."
For example, a Litter-Robot servicing one average adult cat, the waste drawer can be emptied once every 7-10 days. With more cats comes more frequent disposals.
Why You Should Consider the Litter-Robot
Here are the reason to consider getting the Litter Robot.
A True Time Saver
You only have to empty the waste container once or a few times a week depending on the number of cats you have. Which is nice since you don't have to do it every day or multiple times per day.
This gives yourself some more free time to play and show love for your cat instead of scrubbing the plastic litter box.
Improved Hygiene
With a secure waste compartment, there can still be some oder if the waste isn't removed. There is a large drawer for a large carbon filter to help absorb odors.
If you have to leave the house for a few days, the automatic and thorough self-cleaning feature is better for the cat, too.
Pure Luxury
Why not elevate the "cat throne" like humans can elevate their own "throne" — making the moment comfortable and automated. Plus, not only does the Litter-Robot look futuristic it is futuristic when compared to other models and the old scoop-n-bag-it litter boxes.
With a luxury factor of 1000 (okay, I'm a bit biased here), your cat will come to accept the extra attention to this daily necessity, and you may earn some extra purrs.
Litter Robot Reviews
Litter-Robot III Open Air with Connect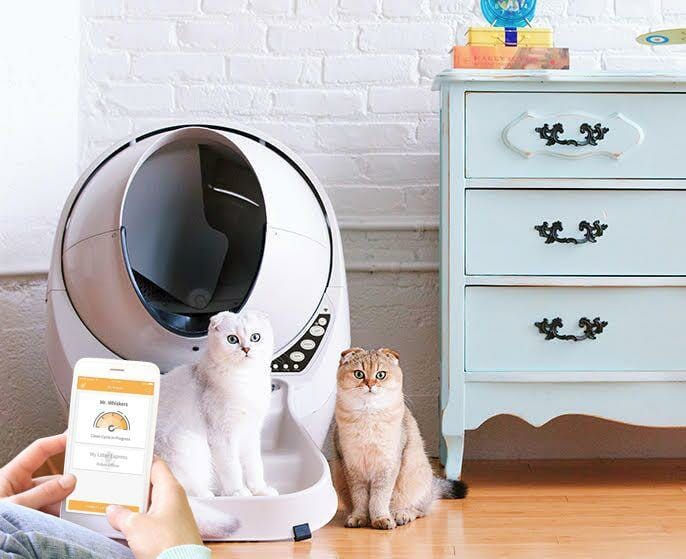 Litter-Robot III Open Air with Connect #ad
Talk about convenience and luxury for you and your cats. The Litter-Robot III Open Air with Connect allows you to monitor the activity in the litter box. You can also control the robot from home or when you're away.
What's really nifty-cool is you can control multiple Litter-Robot units. This means that taking care of all your cats just got high-tech and more convenient.
There's really no weight limit to this Litter-Robot. If your cat is large or fat, it will be up to the cat if it can feel comfortable turning around inside.
You can also monitor your cat's litter box activity with the help of your Apple device (Android app is expected in Fall 2018). This can help you plan ahead and it can also alert you if something is wrong with your cat. Maybe she's using it too often, maybe there's too much waste. At least you'll have a better understanding of what's going on and you can schedule a trip to the vet.
Although less important for the cat, the futuristic design could be great for you. The Litter-Robot III Open Air with Connect fits perfectly with most modern households.
Main Features
Wi-Fi monitoring
Waste level display
Can control multiple units
Auto-on night light sensor
Kitty-proof lock
Receive notifications
Change settings remotely
Carbon filter included
Litter-Robot III Open Air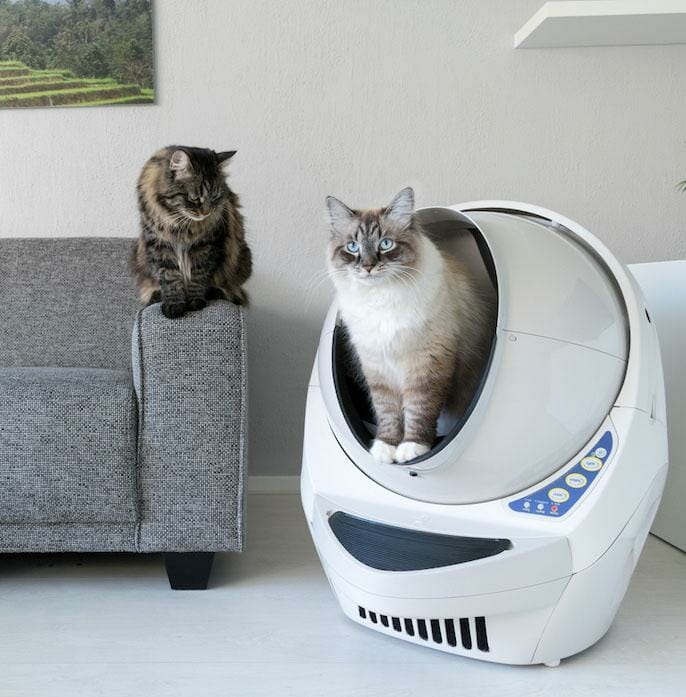 ​Litter-Robot III Open Air #ad
The Litter-Robot III Open Air comes without the WiFi-Connect. At the same time, it also is one of the most popular automatic litter boxes. You only have to clean it once a week in most cases, and it comes with a money-back guarantee.
You can also choose to upgrade the Litter-Robot III Open Air to enable Wi-Fi monitoring. This can come in handy if you purchased one before the Connect was released.
In terms of operation, the same patented sifting process is used in the cleaning process. The design accommodates both small and large cats as the chamber is quite spacious.
Although this version doesn't have monitoring by default, it still has an indicator for the waste compartment. You can still perform your weekly maintenance when needed without receiving a phone notification.
Main Features
Waste level display
Kitty-proof lock
Auto-on night light sensor
Reduced box odor
Fits small and large cats
Money-back guarantee
Carbon filter included
Final Thoughts & Best Choice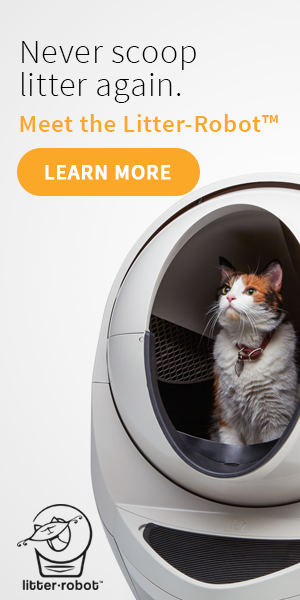 Really, never scoop litter again #ad
Buying a litter robot requires serious thought. There are key features to consider and most of them involve knowing your cat's preferences or their willingness to try new things. Either way, it's not easy but the pros outweigh the cons for sure.
Our top pick would have to be the Litter-Robot III Open Air with Connect #ad. Why not the stripped-down version? Considering how both models perform the same, the added benefit of Wi-Fi monitoring and tracking just does wonders. It gives you more free time and alerts you when something important happens. It also serves at keeping you apprised of changes in your cat's behavior and possibly health.