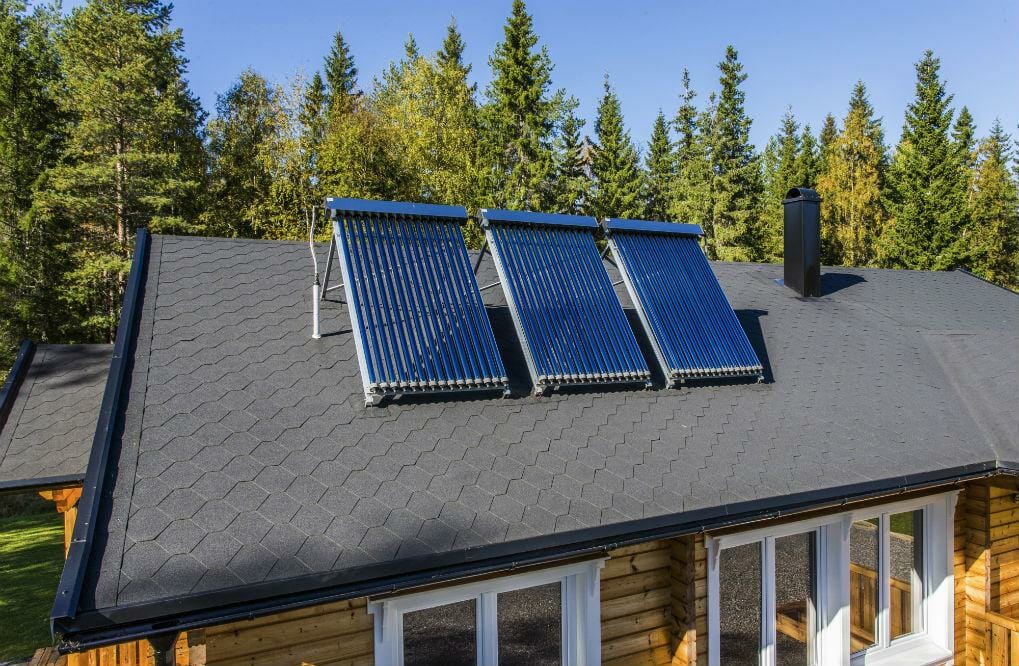 *This post may contain affiliate links (#ad) for which I earn commissions.*
Solar Heater for Home 2023
Not every solar heater works in all situations. The reason there are so many products to choose from is because most of them are designed to excel at a particular task.
This article will cover the potential heating requirements you may have along with reviews of the best solar heaters for home use.
What Are Solar Water Heaters?
Solar water heaters convert sunlight into direct heat for the purpose of raising water temperature according to your needs. Some of the designs let you reach upwards of 120° under optimal weather conditions.
Why You Might Want to Buy One
There are many reasons that would convince a person to purchase a solar water heater. The first and most obvious one is the need for hot water.
Others may choose to buy a solar water heater to have an eco-friendly heating system that reduces the person's carbon footprint. Although the impact of one small solar heater is by no means dramatic, everything adds up at the end of the day.
Last but not least, solar heaters tend to have very low running costs. At least during the day when there's plenty of sunlight, there's no need to use electricity or gas to heat your water.
How Solar Water Heaters Work During Nighttime
Most solar water heaters come with a backup system. This usually involves an electric element although there are also hybrid solar and gas designs. This also comes in handy when the weather conditions don't allow for enough sunlight.
Tube vs. Flat Panel Heaters
More and more designs these days use heating tubes instead of flat panels. The reason is that tubes have a superior energy conversion rate. They've also been proven to be more durable and easier to maintain. If you're looking for the very best in solar water heaters, tube systems are very efficient.
Solar Water Heater Collector

Duda Solar 30 Tube Water Heater Collector #amazon ad

This solar water heater collector is one of the most recognizable manufacturers of solar products. Their heaters are synonymous with durability and efficiency.
The come in four Evacuated Tube numbers: 15 Tube, 20 Tube, 25, Tube, and 30 Tube.
It has an absorption efficiency of up to 96%. This makes it a very good option for users living in colder states. It's also been designed to work for at least 15 years without excessive performance deterioration (the lifespan is rated 70% at 15 years).
The operating pressure is rated at a maximum of 87psi while the flow rate is rated at 5.25gpm. It's not the fastest heater but it's the superior heat retention that makes this heater a good option for people that want to swim before the summer.
The durability of a tube water heater collector is generally superior to that of traditional panels. This has better resistance against heavy rain, hailstones, strong winds, and very cold weather. Tubes are also better at retaining heat than a traditional flat panel collector.
The solar heater works better when it receives sunlight at an angle. So, you might not want to hasten the installation process. Make sure to position the tubes at an angle facing east or west.
Solar Heater Mat for Above Ground Swimming Pool

Intex Solar Heater Mat for Above Ground Swimming Pool #amazon ad

Here's an Eco-friendly solar heater mat for the above ground swimming pool may seem a bit much but it's always the little things that we end up using most of the time. This Intex mat can be used for your outdoor swimming pool area, your patio, and pretty much anywhere in the garden.
Nevertheless, most users will use the Intex solar heater mat for their above-ground swimming pool. It is compatible with most water pumps as long as the flow rate is less than 2,500 gallons per hour.
The mat is 47 by 47 inches. It provides sufficient coverage for pools of up to 8,000 gallons capacity. When operating at maximum efficiency, it raises the water temperature by up to 5°.
The installation is simple enough. The mat comes with adaptors for 1.25" and 1.5" hose connections. As long as your pump doesn't exceed the maximum flow rate, the Intex mat should be compatible with your current pool setup.
It can be a good alternative heat source if you're looking to cut down on electricity costs. It will be even more valuable if you live in an area where the sun is not obstructed, and you don't get many cloudy days during the warm seasons.