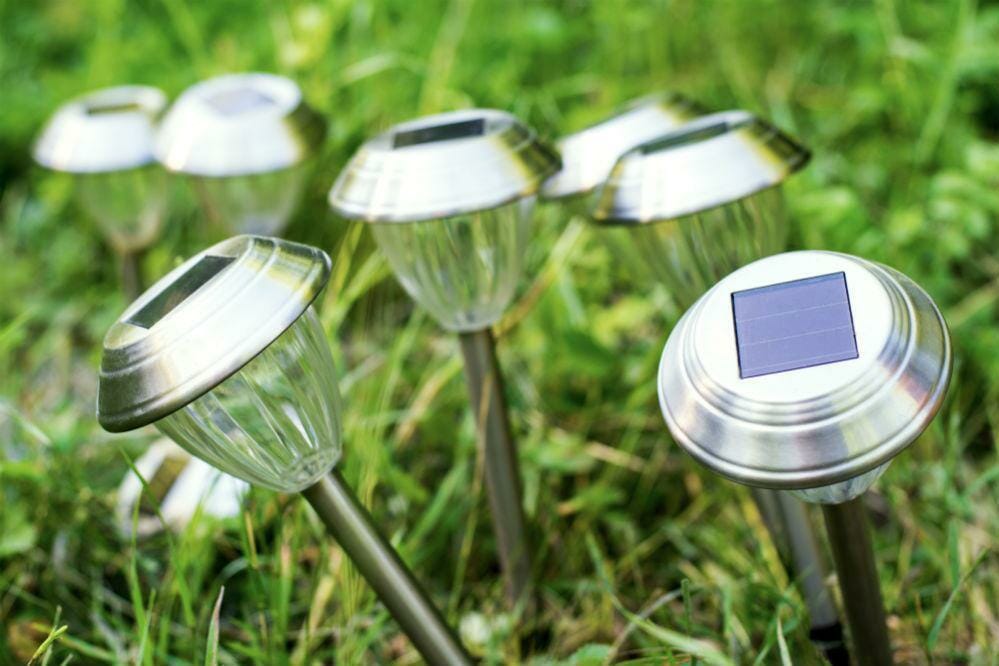 *This post may contain affiliate links (#ad) for which I earn commissions.*
Best Solar Powered Products for 2023
Whether you want to make a difference on the environment or you want to have more cost-effective gadgets around the house, solar powered products seem to be the way to go. The technology is improving so fast that the product choices today seem almost endless.
This article will tell you why you should buy solar powered products and highlight some popular, affordable solar gadgets and products that will help you save money and keep our planet healthy-green.
Why Buy Solar Powered Products?
Cost
There are so many solar powered products available today that can help you cut down on electricity costs without making the full switch to a solar powered household. Nightlights, backup generators, radios, and may not seem like much, but they can put a nice dent in your electrical bill.
Emergency Situations
A flashlight and a radio that can operate on solar power can be lifesaving items in times of need. Not only are these essential items around the house but they are also useful on camping trips. Most solar powered generators have enough outlets and USB ports to power up any devices that don't draw too much power. They're smaller in size and more convenient to transport than gasoline generators.
Decorations
Lighting decorations around the yard are always lovely. They can highlight specific features of your house and garden, as well as, provide enough light to get around during the night without carrying a flashlight.
Solar powered products in this category are very beneficial. Not only can they operate from dusk to dawn, but they also cost nothing to run (apart from the initial investment). If you're particular about having multiple lighting decorations, then choosing a variety of solar products may be more affordable than buying traditional spotlights or fence posts lights.
Caring for the Environment
There's something about using Eco-products that many people don't understand. That is, "Using even a little bit over time will save a lot."
Selecting to use solar for your pathway lights, patio decorations, or a couple of solar powered fountains will over time save you a lot as well as help save the environment.
However, if you do care about the environment and reducing your carbon footprint, then even the smallest of solar gadgets will make a difference for you. So, you're not only getting reliable products for everyday use but, you're also able to feel better about yourself.
Reliability
A lot of people are still concerned that solar powered gadgets are not very reliable. Naturally, some areas don't offer enough sunlight to charge all lights or generators consistently. Nowadays, more and more solar powered gadgets today come with dual charging features.
For example, solar flashlights may have an additional hand crank  for charging. Generators may have a plug-in capability so that you can charge them in advance.
The following products have been chosen for their reliability and usefulness. We hope you find something for your home life.
Light-Weight Portable Power Station With Added Solar Panel

Jackery Explorer 240 Portable Power Station #amazon ad

This light-weight portable power station can be charged with an optional Jackery SolarSaga 60W Solar Panel (see below). 
The generator weighs about 6.6lbs. It's quiet and Eco-friendly. That means no fuel or gasoline needed. No fumes nor any clanging noises. Perfect for outdoor camping, traveling, hunting, or emergencies like hurricanes or other power outages.
​What can it do:
| | |
| --- | --- |
| Phone | 24 Charges |
| Laptop | 3-4 Charges |
| Led Lights (5W) | 6H/21H |
| Mini cooler (60W) | 18H |
| TV (60W) | 3H |
Important:
The AC output port can only charge/power devices that operate less than 200-Watt.
To figure "Working Times": 240Wh* 0.85 / operating power of your device.
The power station is not TSA approved.
The Explorer 240 portable power station will be turned off automatically when being drawn under 10W power.
Specifications:
Capacity: 240Wh (16.8Ah, 14.4V)
Battery Type; 67000mAh Lithium-ion Battery
Input: 8mm DC, 12V-30V (42W max.)
AC Output: 110V, 200W (400W peak)
Car Port: DC 12V, 10A, 120W
USB Outputs (2): 5V, 2.4 (each)
Weight: 6.6 lbs
Dimensions: 9.05×5.24×7.8in
Portable Solar Panel

Jackery SolarSaga 60W Portable Solar Panel #amazon ad

Here's a portable solar panel that is a perfect for charging the Jackery 240 Portable Generator. This foldable solar charger with kickstand is perfect for outdoor life and when there are unexpected power outages. 
Connect this solar charger to the generator and collect enough energy to charge your smartphone and enjoy the benefits the Jackery Portable Power Station can do outlined in the table above.
Important notes:
The solar panel is not water proof.
It is not compatible with the Jackery Explorer 440/PowerPro​​​​
Specifications:
Peak Power: 60W
Cell Efficiency: 23%
Power Voltage: 18V
Power Current: 3.3A
Open Circuit Voltage: 23.76V
Short Circuit Current: 3.6A
Operating Temperature Range: 10C (50F) ~ 65C (149F)
Weight: 3.3 lbs
Waterproof Outdoor Solar String Lights

Brightech Ambiance Pro Waterproof Outdoor Solar String Lights #amazon ad

These beautiful "Italian Cafe Style" outdoor solar string lights use the vintage Edison light bulb. They not only create a retro bistro look for any occasion, they are bright enough when you grill, eat, drink and be merry with family and friends.
These soft white lights will last from 5 to 6 hours on a full charge from the sun.
The bulbs are commercial grade weatherproof and shatterproof plastic shells. They can hold their own in 50 mph winds, rain, sleet, or snow as well as hot days up to 112 F.
Each bulb has its own ring so it can be either hooked or have a guide wire pass through it.
Other Features:
Comes in two sizes:

27 feet, 12 bulbs, 20" between bulbs: 20 feet of light
48 feet, 15 bulbs, 3 feet between bulbs: 42 feet of light.

Detachable solar panel with on/off switch.
The LED bulbs will last 20,000 hours and a solar panel is rated at 1,000 charge lifespan.
Direct sunlight is best for full charge, it will get some charge from indirect light.
Brightech's 2 year solar warranty that covers the product if it stops working within 2 years or if there are any defects within those 2 years.
Waterproof Solar Flashlight

ThorFire Solar IPX6 Waterproof Solar Flashlight #amazon ad

There's nothing more handy and useful than a waterproof solar flashlight. This one weighs just 6.2 ounces. It can provide light for up to four hours on land and underwater. The IPX6 waterproofing makes it suitable for working in a rainstorm.
FYI: IPX6 water resistance rating means this flashlight can survive strong water jets projected by a 12.5mm nozzle at any angle. The IPX6 test lasts for 3 minutes and the volume of water is 100 liters/min.
A hand crank and solar powered flashlight may not be super flashy, but it is highly effective. It can come in handy during a power outage or as an emergency light source when you're out camping. 
This solar flashlight has two charging methods. Solar powered and, it also has a hand cranking system. Just one minute of cranking can give you around one hour of light on all 3 LEDs. One hour in direct sunlight will provide you with twice the duration.
A dual-charging solar flashlight can be handy when power is out and, you're in the dark.
An emergency safety tip:
Place extra lights in places where emergency lighting is needed if the power goes out. This may be your cellar, car, garage, bedroom, or any place where you don't want to be in total darkness.
Solar Water Fountain

Solatec Solar Water Fountain #amazon ad

Folks who like the traditional birdbath water fountain decorations will appreciate having an eco-friendly solar water fountain. This fountain can be used in fish tanks, fountains, pools, and ponds.
The pump comes with four nozzle attachments so that you can alternate patterns. They also change the water height on a range between 11.8 and 19.6 inches.
Of course, with any solar product, it costs you nothing to run. Because of this, you can use more than just one to decorate your garden.
The pump requires very little maintenance. Just the occasional rinsing is necessary to make sure the pump doesn't get clogged with dirt. It's also worth noting that the performance increases with the amount of sunlight it receives. During a cloudy day, you might not see the maximum water height level.
Solar Crank NOAA Weather Radio

FosPower 2000mAh Solar Crank NOAA Weather Radio SOS Alarm and Flashlight #amazon ad

Take out the worry of not knowing what's coming your way with this solar crank NOAA weather radio. It's nice to have "early warning weather radio" when you're in a region that's prone to extreme weather conditions. It has an IPX3 water resistant rugged shell.
FYI: IPX3 water resistance rating means that this radio can survive sprays of water at different angles up to 60-degree measured from the vertical axis. The pressure of the water is 50-150kPa and the amount of the sprayed water during a 5-min test is 50 liters.
The radio helps you keep track of your favorite tunes and shows on AM and FM while also keeping you up-to-date on NOAA alerts.
This 2000mAh power source will provide emergency power to any small mobile device.
There are three power sources:
The radio's crank lever and solar panel are both capable o regenerating enough power to keep the radio, lights, and SOS alarm ready when you need it most. AAA batteries can be used when you don't need to depend on regenerating power.
It also comes with a table lamp and an LED flashlight. It has an SOS alarm if you need to send a distress signal. With a full charge, it can give you four to six hours of air time.
This unit comes with a limited lifetime warranty.
It comes with multi-charging options. It can run on batteries and, the charging options include micro USB, hand crank, and solar power. There's virtually no way you can run out of juice and miss a critical alert or your favorite show while working, camping, traveling or chilling in the backyard.
Other Features:
Frequency Range: AM: 520-1719KHz, FM 87-108MHz, WB: 162.400-162.550MHZ.
Weight: 10.9 oz. (310 grams).
Power consumption: 2W (MAX).
Working Voltage: 2.7-4.2V.
Power source: 2000mAh / 3.7v Li-ion.
Batteries: AAA 1.5V LR03 (Not included)
Conclusion
Although solar products save power, large solar panel systems are still out of reach for many consumers. However, this doesn't mean there isn't a wide array of solar powered products that are affordable and can offer plenty of use around the house.
Depending on your needs, a backup generator, a fountain decoration, or even spotlights and pathway lights are economical options. Running lights during the night can get costly if connected to the grid. Besides taking the running cost out of the equation, solar powered products are usually more durable and better suited for harsh weather conditions.