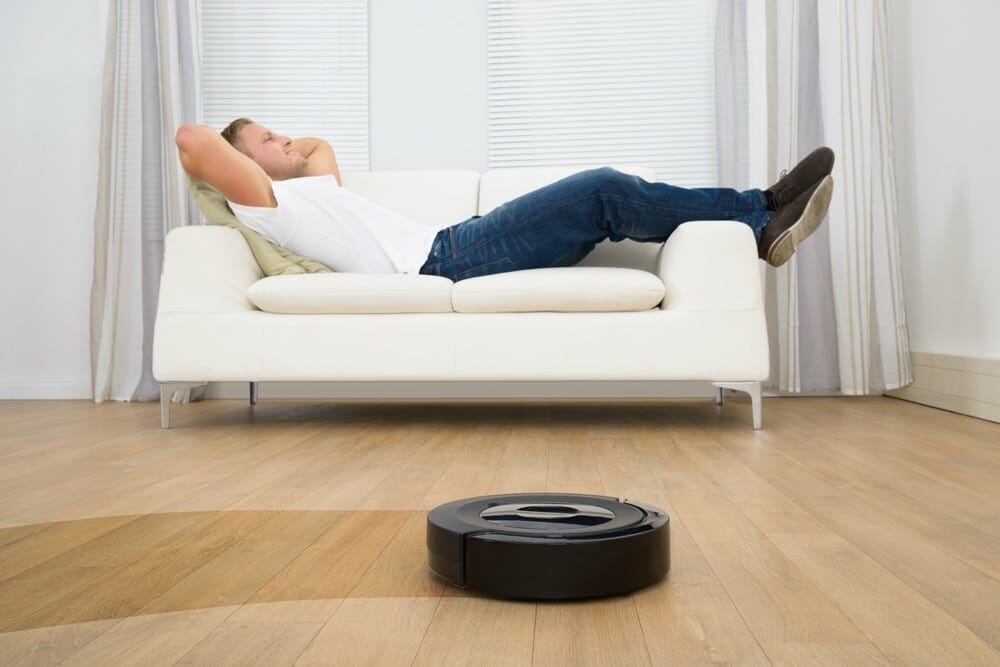 *This post may contain affiliate links (#ad) for which I earn commissions.*
Robot Housekeeper Buying Guide For 2023
Robot Housekeeper Buying Guide focuses on home robots that clean floors, windows, grills, pools, feed pets, and mow lawns. No chores for you.
Robot Housekeeper Buying Guide focuses on home robots that clean floors, windows, pools, feed pets, and mow lawns. No chores for you.
These home robots are becoming more intelligent in what they can do or, at least, becoming a lot easier to program to do the chores you abhor. It's becoming more common to see new robotic house cleaners hitting the market at affordable prices filling a wider range of household tasks to help make life easier.
Housekeeping robots are devices and/or appliances that automate everyday tasks in some way. Some need to be programmed, others need to flick the switch and let it do its thing. 
Robot Vacuums and Floor Cleaners
Robot vacuums and floor cleaners were some of the first robotic housekeeping units to be available to the public. Since those early years, they have improved in a number of ways.
For example, they can scan and map the room (a high-end feature) using a smartphone app. Or, schedule daily cleanings. They even return to their chargers when needed. This eliminates the need to keep track of battery charges.
Smart Alexa Operated Robot Vacuum

ECOVACS DEEPOT N79S Smart Alexa Operated Robotic Vacuum #amazon ad

One of the best examples of robot vacuums is this popular, quiet-running, smart power vac that uses Alexa voice command to direct cleaning. In addition, the ECOVACS Smart App can customize cleaning, scheduling, monitor cleaning sessions, update accessory status and receive error alerts.
The strong suction, regular and max mode, where suction is increased by 50%, along with  deep-reaching cleaning brush and wide-reach side brushes allows this bot to work best on both thin carpets and hard floors.
Pet owners you'll love this: This unit also enjoys sucking up any and all kinds of pet hairs from shed-loving pets. The bonus air filter reduces the number of dirt particles present in your home.
This sturdy unit will run for 100+ minutes and then auto-recharge. It has anti-collision and anti-drop sensors that provide smart motion navigation with a protective bumper to keep your furniture ding-free.
A final note about robot vacuums. They're not effective on thick or dark carpets. The brushes may get cluttered with tangled threads, the sensors get confused because they can't see in the "dark", that is, dark or thick carpets.

If you'd like to get a robot vacuum that is "thin", able to clean under a lot of furniture here's a full review of the Coredy Smart Robot R750.
Smart Mapping Alexa Robot Mop

iRobot Braava Jet M6 Smart Mapping Alexa Robot Mop #amazon Ad

For a good ultimate robot mopper, here's a model that's an excellent cleaner for finished hard floors including hardwood, tile and stone.
It can be told where and when to clean as well as zones to keep out of. It has iRobot's vSLAM navigation that helps this model learn the layout of your home and builds its own personal smart maps. These maps enable it to expertly navigate and clean in a neat, efficient rows while navigating around objects and under furniture. 
A nifty feature is that when the battery runs low, the unit will recharge itself and resume cleaning.
This mopper can mop a mess in a moment.
For example, you just spilled your coffee on the floor. All you have to say to Alexa or Google Assistant, "Have Braava mop in front of the kitchen counter", and all you need to do is grab your freshly refilled coffee tumbler and head out the door.
The Precision Jet Spray easily loosens sticky messes and spilled kitchen grease without getting the spray on furniture, rugs or walls. 
The Braava Jet is yours to command. 
It will learn your cleaning habits, so it can offer customized schedules. In addition, it will suggest more cleanings when your loving furry friend goes into shedding season. 
Robot Pool Care
If you are one of the lucky people who has a pool, you can do away with that pool cleaning service. There are robotic pool cleaning units that can do the job for you, and they come in different capabilities. Some will sweep, scrub, and vacuum and others are dedicated to skimming the surface. Each plays a unique role in keeping your pool healthy and clean.
WiFi Operated Robotic Pool Cleaner 

DOLPHIN Nautilus CC Supreme WiFi Operated Robotic Pool Cleaner #amazon ad

The highly rated WiFi operated robotic pool cleaner is perfect for ground swimming pools up to 50 feet.
This powerhouse pool cleaner comes equiped with powerful motors to run three scrubbing brushes along with filtering that clean the pool's floor, walls, and waterline. 
No extra stuff needed.
There's no need for a booster pump. No extra hoses. To operate, just plug it in, and drop it in, and go back to relaxing on the poolside lounge chair. 
It comes with the ability to set advanced cleaning schedules, choose between cleaning cycles, delay start, and spot clean using the MyDolphin Plus App on your mobile phone using WiFi from anywhere, any time.
This energy saving pool cleaning assistant costs an average of 5 cents per hour. 
Simple to use.
Choose between the quick clean, focusing on the floor only (1.5 hours).
The standard cleaning for floor, walls, and waterline (2.5 hours).
Or the enhanced clean for extra scrubbing time (3.5 hours)
This pool robot works independently from your pool system. No worries about external factors like low pressure or a damaged pump impacting this units cleaning performance. 
Let this robot pool cleaner take the hassle out of keeping your pool clean and let you and your family and friends get back to enjoying your pool-life.
Robotic Solar Powered Pool Skimmer

Instapark Betta Robotic Remote Controlled Solar Powered Pool Skimmer #amazon ad

If you're fortunate to have the shade of a pine tree near a pool but unfortunate to have it get covered with pine needles, the this robotic solar powered pool skimmer would love to have the opportunity to skim those pine needles off the surface of your pool.
And it won't stop there. Leaves, bugs, pollen, anything that floats on the surface, including suntan oils will be no match for this sun-powered skim bot. A cleaner surface means that your pool bottom and sides will be cleaner and need less cleaning. The pool will also be healthier because fewer bacteria can grow since their homes (dead leaves and debris) just got skimmed.
Will seek the sun to charge itself
Here's nifty-cool feature about this skimmer. If it runs out of power, it will locate the sun (while in the pool) and charge itself. Then, when it's fully charged, it will start working again skimming your pool. There's no need to press the power button to restart it.
The only buttons you need to press will be the ones on the wireless remote control, where you can switch between automatic and remote use. The remote controls the fast fixed-point cleaning, or directs the robot to dock anytime, anywhere.
Easy to remove debris basket
There's a large capacity debris basket that lets you remove and clean the basket without removing the robot from the water. All you have to do is dock the robot, open the latch, and grab the basket. The basket is designed so that when you remove it no debris falls back into the pool. 
All you have to do now is sweep the poolside needles and then go for a dip into the clean waters of your pool.
Robot Pet Care
Pet care has also taken a robotic turn. Some tedious tasks remain your responsibility but having a robotic pet care unit can cut pet care time in half.
Most noteworthy are the automatic self-cleaning litter boxes. Units such as these were available in the past. But, newer ones have WiFi for supporting a variety of features when using the litter box App.
Automatic Self-Cleaning WiFi-Enabled Cat Litter Box

Litter-Robot 3 Automatic Self-Cleaning WiFi-Enabled Cat Litter Box #amazon ad

The nifty automatic self-cleaning WiFi-enabled cat litter box will bring an end to your scooping days. All you have to do is empty the waste bin when it's full. Plus there will be cleaner paws, and less tracking as well as reduced litter box odor.
This high-tech litter box can remotely control a single or multiple number of units. The app runs on iOS providing the following amazing, time-saving features:
View the waste level from wherever you are.
Get real-time status updates on when it's cycling or the drawer is full.
Monitor kitty's litter box usage that will help you keep tabs on your cat's health.
Manage your litter-robot settings while kicking back with kitty on your lap.
Activate the night light.
Lock out the control panel to prevent your curious friend from pushing the buttons on the unit.
It will self-adjust to your cat's size (best for cats 5lbs and up).
Works with your favorite brand of litter.
A full review of the Litter-Robot 3 can be found here
Also available are some amazing automatic feeders and automatic doors. The feeders come in a variety of sizes and for different animals. Some feeders come with bells-n-whistles that will make the chore of feeding your lovable pet a pleasure to do.
High-Tech Auto-Smart Pet Feeder

PetSafe Smart Feed Automatic Dog and Cat Feeder #amazon ad

This is one of the hottest high-tech auto-smart pet feeders simply because… 
It's perfect for both cats and dogs.
Along with features that bring the following benefits:
Your smartphone controls your pet's meals from anywhere.
If the WiFi connection is lost or the feeder is offline it will still feed on schedule. 
Set up to 12 meals to feed on your pet's schedule.
"Feed Now" allows you to feed outside normal feeding times.
Meals can be dispensed from 1/8 cup to 4 cups to fit your pets appetite.
"Unique Slow Feed" will add the food slowly over a 15-minute period to help prevent gobbling.
Works with most shapes and sizes of dry and semi-moist pet food.
This food dispenser is "paw proof" preventing curious, prying paws from sneaking food.
Best for cats and small to medium dogs
Hopper holds 24 cups and the stainless steel bowl can serve up to 5 cups for the heavy eaters.
Made of BPA-free plastic and stainless steel
To sum it up: feeding your pet couldn't be more convenient and fun.
In addition to cat & dog feeders, there are auto-feeders for other pets like fish and birds.
Automatic Fish Feeder for Aquarium or Fish Tank

Zacro Automatic Fish Feeder for Aquarium or Fish Tank #amazon ad

This automatic fish feeder for an aquarium or fish tank is perfect for when you don't have time or you're on a holiday.
The feeder will add the exact amount of food at the exact feeding times. There's a "snack button" for instant feeding.
All the keys are splash proof with a low battery level warning system. 
Will fit the VARILUX aquarium hoods, and come with a bracket for open-top aquariums as well as the nano aquariums.
Automatic Bird Feeder

Wingscapes AutoFeeder Automatic Bird Feeder #amazon ad

Bird lovers will love this programmable feeder that holds up to 1-gallon of bird feed letting you fill the feeder less and enjoy the more birds more. This feeder lets you determine when and how much to feed the birds that visit your yard.
It's built to withstand those pesky varmints, that's right, we're talking about you squirrels. The heavy duty baffle will do just that, baffle any squirrel making it not worthwhile to play here.
The deeper tray prevents spilling and gives more birds more space to have a nice little bird feast. There are also drains to keep the seed dry. Nice touch.
In a nutshell:
Fill your feeder.
Set the timer.
Enjoy the show.
Other features:
13″ W x 21″ H, 3.5 lbs. empty.
Four (4) AA batteries (required) provide about 1-year of battery life with built-in battery indicator.
Automatic bird feeder with programable timer to dispense seed up to 4-times each day along with setting runtime from 1-20 seconds to control the amount of seed added.
Pet Powered Electronic Door

High Tech Power Pet Powered Electronic Door #amazon ad

This pet powered electronic door is completely controlled by your pet dog or cat! The directional sensor system will open the door when it "senses" Fido, the dog or Felix, the cat, wearing its tiny ultrasonic collar, is heading for the door and stay closed when Fido or Felix are just passing by or curling up nearby for a nap.
Sizes:
Medium door panel: 8-1/4″ by 10″ for cats and dogs up to 30-pounds.
Large door panel: 12-1/4″ by 16″ for pets up to 100-pounds. 
Other nifty features:
Water resistant or optional fully waterproof MS-4 Collar.
Keeps out strays.
Lowers heating and cooling bills.
Automatic dead bolt lock
Automatic safety retract system
You are now FREE from a lifetime of Doggy/Kitty Doorman Duty!
Microchip Cat Flap Connect

SureFlap Microchip Cat Flap Connect #amazon ad

Here's a microchip cat flap connect that operates from an app on your mobile phone using your pet's unique identification microchip or RFID collar tag. The door will unlock only for your pet leaving intruders outside.
What is nice about this auto-door is that it's suitable for multi-pet households, up to 32 pets can be stored in its memory. This particular model is designed for cats and small dogs.
The door runs on 4 AA non-rechargeable alkaline batteries (not included). The estimated battery life is up to 1-year depending on use. There's a low battery indicator, light flashes red, when the batteries are low.
They claim that the SureFlap Microchip Pet Flap was tested on raccoons in a zoo environment. During these tests Rocky Raccoon and his friends were never able to get in.
Other Features:
Opening: 5 5/8" W by 4 3/4" H
Can be installed in doors, windows, or walls.
Microchip compatibility: Works with 9 (Avid Secure), 10 (FDXA and 15 (FDXB) digit microchip numbers.
Programmable RFID collar tags have to be bought separately for pets without microchips.
These pet smart pet products take the stress of remembering or having to do daily pet chores out of your life, letting you enjoy more of the fun and loving times with your pet.
The automatic doors are not just for dogs and cats either. There are also automatic chicken coop doors available on the market. While you don't have as many choices for chicken coop doors as you would for doggy or kitty cat doors, they are available if you need them. 
But here's a nifty automatic door opener that works on any chicken coop door you may have already.
Automatic Chicken Coop Door Opener with Timer and Light Sensor

ChickenGuard Extreme Automatic Chicken Coop Door Opener with Timer and Light Sensor #amazon ad

All you have to do is attach the automatic chicken coop door opener with timer and light sensor to your chicken coop door and you're good to go.
The ChickenGuard Extreme is made to military grade standards. All the electronics are enclosed in a weather proof case and are completely encased in epoxy resin making this auto-door opener reliable in under harsh weather conditions.
It can lift 8lbs with no minimum or maximum door heights. The strong cord has a breaking strength o 50lbs. It comes with a 3-year no quibble manufacturer guarantee.
The LCD screen makes it easy to set when the door will open in the morning and close in the evening, saving you from having to get up in the morning and protect your chickens from predators.
Other Features:Runs on 4 AA alkaline batteries (included). Long battery life with low battery warning. Door closed indicator light visible up to 328 ft (100 meters.
Other Features:
Runs on 4 AA alkaline batteries (included).
Long battery life with low battery warning.
Door closed indicator light visible up to 328 ft (100 meters.
Robot Lawn Mower
Don't have time to mow your lawn this weekend? That's okay. Your robotic lawn mower is on the job. This is yet another technological advancement in a long line of robot housekeeper units.
Robot lawn mowers are not cheap, but, they do take the work out of keeping your lawns and gardens beautiful. And, like many robotic units, they return to their charging units when not in use.
Quiet-Running Robot Lawn Mower

Gardena Sileno City 500 Robot Lawn Mower #amazon ad

This popular quiet-running robot lawn mower can mow a maximum lawn size of 5,400 sq. ft. (500 m2).
The lawn bot can be controlled using the Bluetooth App downloaded to your mobile phone. The App is used for settings and operation but the mower can also be operated using the control panel on the mower.
It will gladly mow the lawn in rain or shine, as well as, navigate grassy slopes up to 35%. 
Something nifty-neat: The small grass clippings left behind provide a nice mulch that enriches the soil with nutrients.
When the mowing is done all you have to do is get off your couch and give a simple spray with the garden house. Call it a day and it's back to the couch. 
It can also handle garden zones, and it will mow the zones individually. Finally, in between mowing chores, you little robot mower will live in its charger station.
Other Features:
Has a frost sensor that will suspend the mowing schedule, because mowing frozen grass damages the grass blades.
Can do SpotCutting, a spiral mowing for hard to reach areas like under a trampoline or garden furniture.
The cutting height can be adjusted.
Can mow a corridor from 23.6 in. (60 cm.) using the boundary wires. (Note: Once the boundary wires have been set, it will become invisible after a few weeks as the grass grows over them).
Charging time: 75 min.
Cutting height: 0.8" – 2" (20 mm. – 50 mm.)
Noise level: 57 db. (equivalent to sound level of a coffee percolator)
Robot Window Cleaner
Additionally, if you have hard-to-reach windows that need to be cleaned, there is a robotic unit for that. A window-cleaning robot can climb up steep, high, and otherwise hard-to-reach glass surfaces; they clean where it's unsafe for you to be. 
Window Vacuum Cleaner Smart Glass Robot

Sophinique X5 Window Vacuum Cleaner Smart Glass Robot #amazon ad

Say goodbye to climbing up ladders to reach high windows to clean.
This time-saving window vacuum cleaner smart glass robot has a built in Artificial Intelligence that recognizes window frames. You can program it for optimal cleaning and maximum efficiency. It will stay on the window for 30 minutes without falling if there is a power failure.
Will work on glass, tiles, smooth walls and tables, you can clean your kitchen countertop.
The powerful suction of the motor keeps the glass cleaner firmly on the glass and won't climb over the window frame. It will cross over if there is a maximum gap between windows doesn't exceed 0.2″ (5 mm.). The unit can be set up so you can control it via Bluetooth on your smartphone or tablet (iOS and Android compatible).
Popular Question: How do you use this to clean upper floor windows?
Answer: You have to open a window next to the one you going to clean. Put the robot on the window, hold it while you turn it on. The suction will very quickly hold the robot firmly to the glass window.
If there is no access window, then you need a ladder to hold the robot on the window while you turn it on. The suction will hold it in place.
Safety wires should be used to prevent the unit from falling to the ground.
IMPORTANT NOTE: There is a Sophinique HC 09 Model with an "Auto Water Spray". It's more expensive, and the reviews, many say that the "Auto-Spray" was weak or not that good, didn't fill me with confidence that this would be a better window robot cleaner than the cheaper Sophinique X5 model.
Buying a Robot Housekeeper
Buying a robot housekeeper is easy if you have the money; you need deep pockets to get your hands on one. They are not out of reach for the typical consumer, but they do require a little investment.
You can buy specialized robotic units like the ones mentioned here on different online retail websites. Bigger retail sites will have general units like the robotic vacuum and floor cleaners.
Additionally, many of the units come with a warranty. But, be aware that you may have to perform minor maintenance tasks from time to time. For example, your robotic lawn mower may need a wheel or blade change.
Finally, maintaining your robotic housekeeper unit is relatively simple. After all, you bought one to decrease chores and not make more to do. So, expect to do some minor maintenance on them, but nothing too complicated.
Further Robotics in Development
If you are waiting for the quintessential robot housekeeper that can take care of household chores and hold conversations, you may have to wait a little longer. Elon Musk, high-tech entrepreneur, has made it is goal to conquer this frontier of tech but they are still in planning and testing phases.
He is working with OpenAI to develop the appropriate AI algorithms to be able to handle these tasks. The ultimate goal is to create a general-purpose robot that is capable of interaction as well as chores.
Musk and the OpenAI team have made promising strides in supervised language tasks. But, still have not developed the correct algorithm to enable complex linguistic activities. It's just a matter of time, though.
Some Final Thoughts
So, are you still holding out for that futuristic AI-enabled super robot housekeeper? It's coming. But, maybe not in your lifetime.
Until then, why not take advantage of the technology that is available today? Grab a robotic floor cleaner to keep your home pristine. Or, an automatic pet care item to keep you and your pet happy.
Saving yourself the time and stress of doing these dreaded chores can create a better quality of life. You will have time to do more things you love, with the assurance that the chores you hate are still taken care of.
Isn't your health and happiness worth the investment? After all, these robot housekeepers save you time, valuable time that you will never get back.